Managed Services
A Virtual IT Department for your business with Webcom Solutions Managed Services.
What are Managed Services?
About
Managed Services Solutions
Webcom Solutions offer Managed IT Services for your business. Our model includes a flat rate monthly fee for unlimited IT support. We also provide proactive maintenance it all IT infrastructure in your business. Our goal is to provide you with a service that ensures that you keep your business running – all the time.
We have over 25 years of experience in the IT industry.  From supporting small business to working in large corporate environments, the staff at Webcom Solutions can help your business.  
How
Webcom Solutions and Datto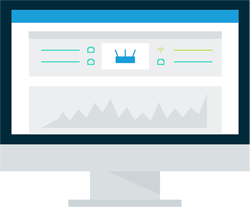 ​Webcom Solutions have partnered with Datto, the world's leading provider of Unified Continuity, Networking and Business Management Solutions.
Webcom Solutions technicians serve as guardians for any SMB IT infrastructure by delivering ongoing monitoring and management of infrastructure, website security, and office applications. Using Datto's Remote Monitoring and Management (RMM) tool, we are always in-tune with the health of your IT environment. Enterprise software that enables us to assess vulnerabilities continually. Webcom Solutions take a proactive approach to IT to avoid devastating impacts on your revenue and reputation that can result from cyberattacks or downtime.
Shifting your IT management over to an MSP can also render significant cost savings. Managed services are generally more cost-efficient than hiring a dedicated IT person. The knowledge and expertise of an MSP are typically superior. There are many SMB's that pay under $1,000 a month for quality managed services.
Webcom Solutions use the best tools to ensure that we can provide the most comprehensive support for your business. We leverage the skills we have in the IT industry to ensure your data and infrastructure is safe.
TESTIMONIALS
What People Are Saying
Webcom provide an outstanding service. They are proactive in bringing the latest updates in technology to our business. They are very reasonably priced compared to our last provider.
Gerald and the Webcom team present a professional and rapid response across all our IT network and digital requirements. No hesitation to recommend and present as trusted partners.
What are Managed Services?
Office
Suite 3H, 19 Bruce St
Mornington, Victoria, 3931